Newbridge War Memorial
Although this website is mainly about the Newbridge War Memorial, it's history and the men commemorated on it, there is also a parallel story of Newbridge, it's people and the community in the years following the Great War which also deserves to be told.

Newbridge and the surrounding towns and villages were mourning the loss of hundreds of lives throughout the war and so, following the Armistice on 11th November 1918, the community set out on a journey to honour those who had fallen but it also wanted to remember the contribution of those men and women who took part in the war and came home to their families.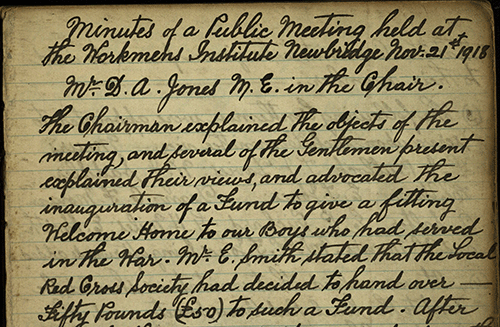 This is a copy of the minutes of a public meeting held just ten days after the Armistice in which the people of Newbridge
"advocated the inauguration of a Fund to give a fitting Welcome Home to our Boys who had served in the War"
At the meeting a committee of twelve men was appointed to set about their task.
Such was the enthusiasm to get started that the first committee meeting was held immediately following the closure of the public meeting!

The Committee went on to raise funds over several years to allow them to purchase and have inscribed a medal for all those, from the Newbridge Postal Code, who served in the war.
The tender to supply the medals was won by a local jeweller - Mr Trigg - and on 19th June 1919 the committee asked him to supply 600 medals at 21 shillings each.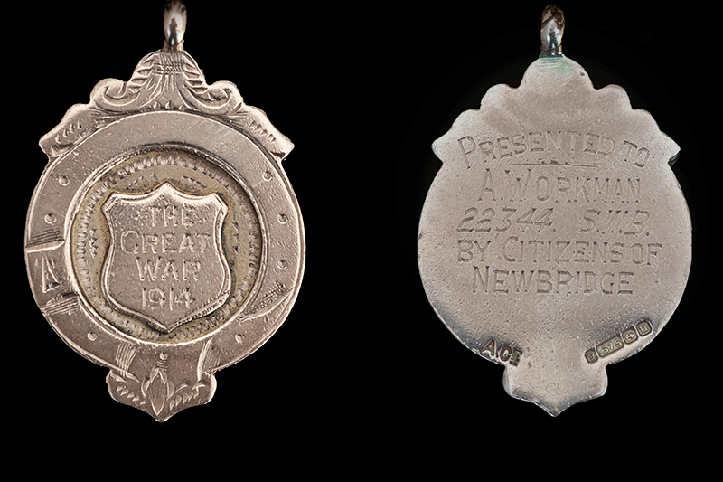 This is the medal presented to the family of Alfred Prosser Workman who is commemorated on the Newbridge War Memorial, his brother Edward Workman is also commemorated on the memorial.